THE CAPSWAY ISLAND TRILOGY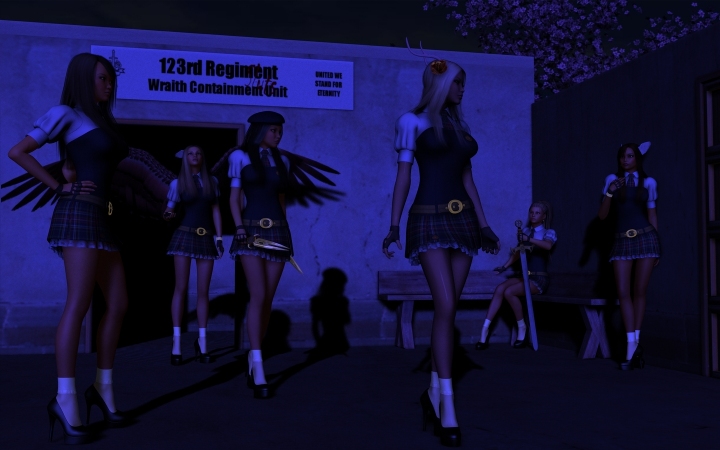 The gods had spoken and now human kind was paying for its arrogance. Having always held the belief that only they would ascend to the afterlife upon their death, humans had always viewed all other species as inferior. The gods were not impressed by this. Determined to make mankind pay for their conceited ignorance towards all other creatures, they set the world an ironic punishment. As mankind already believed animals didn't ascend to heaven, they simply made it so. Rather than ascending to heaven, all non-human species would now return to the mortal realm as wraiths.
Ever increasing in number, the wraiths threatened to overwhelm the planet. For each creature that was born and died, yet another wraith was spawned, their population growing further out of control by the day.
In a bid to fight back against the wraiths, the five races of mankind united to form one giant army. Their sole task being to rid the world of wraiths. A law was passed that from the age of fourteen, every child would attend basic training then serve in the army for ten years. Everyday, military units would patrol the land and fight the spawning wraiths, they truly were mankind's only hope of survival.
PART ONE: THE SIEGE OF CAPSWAY ISLAND
Military involvement on the remote island of Capsway, consists of one all female unit made up of six members. Having been hand picked by a perverted general, purely for their pretty faces, nice bodies and perfect breasts, the women of the unit are deeply unpopular with the locals, who view them as inept bimbos. It is a perception not helped by smutty comments made by their general.
Seen very much as an incompetent disgrace to their island, the local people like to make the unit members lives hell as much as possible, driven by the angry belief that, in a crisis, the girls of the unit will be useless. Little do the people of Capsway know, however, that theory is about to be tested. There's something in the air and all hell is about to break lose. One island, six women and ten thousand bloodthirsty wraiths.
PART TWO: THE LOST FORTRESS OF CAPSWAY ISLAND
Just when things seem to be going so right for the Capsway Island wraith containment unit, it suddenly threatens to go horribly wrong. The leader is accidentally blown up by her own subordinate's magic and a deeply misogynistic major is sent to investigate on behalf of the army. During his visit, the girls of the unit discover an abandoned underground bunkers packed full of giant wraiths. With the major seemingly hell bent on dismantling their unit, the girls are charged with finding a way into the bunker and killing the wraith infestation within. Same island, same six women and thousands more bloodthirsty wraiths... only bigger.
PART THREE: THE LAST RITES OF CAPSWAY ISLAND
For several millennia, Capsway Island has harboured a secret. Shortly after the wraith containment unit leader's wedding, that secret soon reveals itself. As smoke belches into the sky and lava spews down the hillside, a mass exodus of the island begins.
CHARACTERS: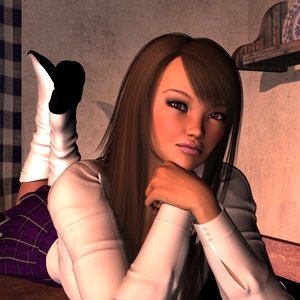 SOAPY. THE NEWBIE. HAVING EXCELLED AT ALL HER EXAMS IN HER TRAINING ACADEMY, FIFTEEN YEAR OLD SOAPY IS SENT TO CAPSWAY ISLAND TO BEGIN HER MILITARY CAREER. AN AQUA HUMAN WITH EXCEPTIONAL MAGIC SKILLS, SHE'S IN NO DOUBT WHATSOEVER THAT SHE'LL BE AN ABSOLUTE SUCCESS AND EVERYONE WILL THINK SHE'S THE GREATEST THING THAT EVER HAPPENED TO THE ARMY.

HER ARROGANCE, HOWEVER, BECOMES HER DOWNFALL AND SHE ENDS UP MAKING A DREADFUL FIRST IMPRESSION.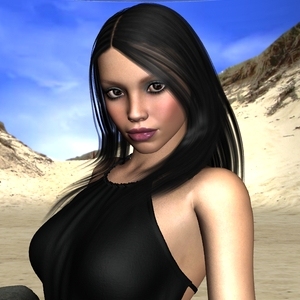 KASIRA. THE LEADER. AS CAPTAIN OF THE CAPSWAY ISLAND UNIT, KASIRA HAS CREATED A DISCIPLINED YET RELAXED ENVIRONMENT.

FIERCELY PROTECTIVE OF HER UNIT, SHE ENJOYS THE MUTUAL RESPECT OF HER SUBORDINATES WHICH SERVES TO MAKE LIFE ON THE BASE A JOYFUL EXPERIENCE.

A LAND-BOUND HUMAN, SHE FIGHTS WITH DUAL BLADES AND HAS LEARNED TO DO SO WITH EXCEPTIONAL SPEED.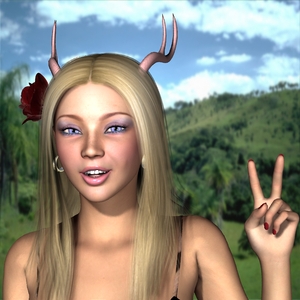 AMBRE. THE CUTE ONE. CURSED WITH A VERY LOW IQ AND PRONE TO PANIC, AMBRE WAS ALWAYS DESTINED TO FAIL AT EVERY ASPECT OF HER TRAINING. YELLED AT AND PRESSURED FOR HER FAILINGS, THE ARMY GAVE UP ON HER AND SENT HER TO WAR IN FULL EXPECTATION OF HER DYING IN BATTLE WITHIN WEEKS.

UPON ARRIVING AT CAPSWAY ISLAND, HOWEVER, KASIRA TOOK AMBRE UNDER HER WING AND GAVE HER THE TIME AND ATTENTION SHE NEEDED TO LEARN HER BATTLE CRAFT. AS CUTE AS THEY COME, AMBRE IS ADORED BY ALL.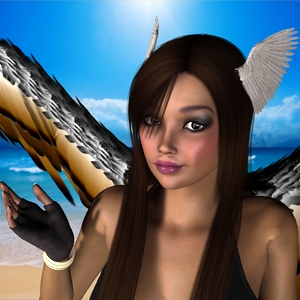 SIKA. THE COCKY ONE. SIXTEEN YEAR OLD SIKA LOVES TO LAUGH. FINDING HUMOUR IN EVERYTHING, SHE VERY OFTEN HAS HER UNIT MATES IN HYSTERICS WITH HER WITTY COMMENTS.

DESPITE BEING AN AIRBORNE HUMAN DEVOID OF THE CAPABILITY TO HEAL, THE ONE SKILL HER RACE ARE MOST FAMOUS FOR, SHE'S PRONE TO DELUSIONS OF GRANDEUR AND LOVES TO BOAST ABOUT HOW GREAT SHE IS, VERY MUCH TO THE AMUSEMENT OF THOSE AROUND HER.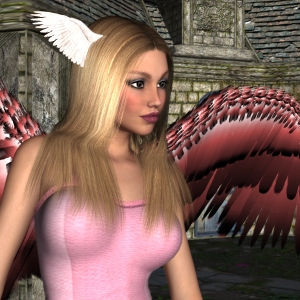 CAYLEY. THE NICE ONE. A CARING PERSON WITH A HEART OF GOLD, NOBODY HAS A BAD WORD TO SAY ABOUT CAYLEY. AN AIRBORNE HUMAN WITH A PASSION FOR HEALING, HER CONTRIBUTION TO THE UNIT IS INVALUABLE.

A SUPERB COOK, CAYLEY LOVES NOTHING MORE THAN SPENDING HER TIME IN THE KITCHEN PREPARING FOOD FOR EVERYONE. AS THE SECOND IN COMMAND, HER CALMING INFLUENCE IS INSTRUMENTAL IN MAINTAINING THE WARM ATMOSPHERE WITHIN THE BASE.
NIVEA. THE JOKER. NEVER ONE TO MISS THE OPPORTUNITY TO HAVE SOME FUN, THIRD IN COMMAND, NIVEA LOVES TO MESS ABOUT AND PLAY THE ROLE OF THE PANTOMIME VILLAIN. DESPITE DELIBERATELY ANNOYING THE LOWER RANKING SOLDIERS FOR HER OWN ENTERTAINMENT, THEY ALL FIND HER ANTICS HIGHLY AMUSING AND GIVE HER AS GOOD AS THEY GET.

BEING NOCTURNAL, NIVEA IS ONLY SEEN AFTER DARK AND TAKES PART IN EVERY NIGHT PATROL, USING HER RACE'S EXTRAORDINARY SWORD SKILLS TO CULL WRAITHS IN LARGE NUMBERS.
DOWNLOADS:
PART ONE: THE SIEGE OF CAPSWAY ISLAND
PART TWO: THE LOST FORTRESS OF CAPSWAY ISLAND
PART THREE: THE LAST RITES OF CAPSWAY ISLAND