FUTILE FANTASY TRILOGY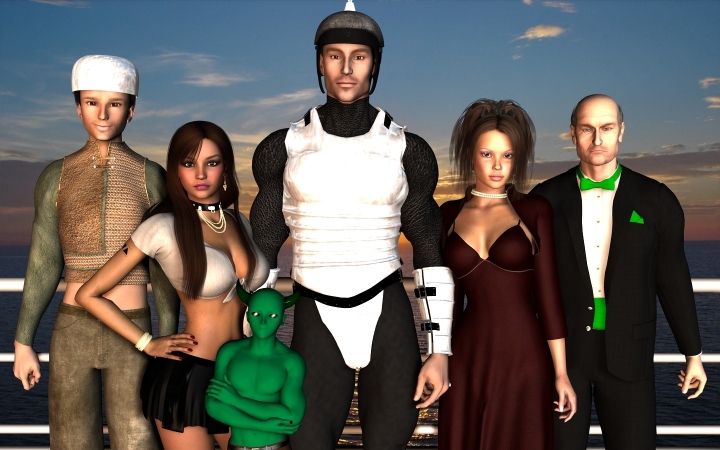 THE FUTILE FANTASY TRILOGY IS WITHOUT DOUBT OUR PROUDEST CREATION. WHO ELSE CAN BOAST A SIX PART TRILOGY? AND WHO WOULD WANT TO?
FUTILE FANTASY ONE: THE LEGEND OF LEFIAT
There's nothing the gangly teenager, Lefiat wants more than to master the sword and become a knight of the realm. Sadly for him he's greatly lacking a few of the attributes required to achieve his goal, such as intelligence, strength, bravery and charisma. Such a puny specimen could never become a knight, could it? Never underestimate the power of luck.
One day during a royal visit to his neighbourhood, the clumsy weakling falls on the king, accidentally saving his life. As a reward the king grants him anything he wishes. Lefiat doesn't even have to think about it. He tells the king of his dream to become a knight. Immediately, the king sends for his head knight, Sir Flaxley and orders him to take Lefiat under his wing and train him to become the knight he longs to be.
Shortly after he begins his training, the king summons Sir Flaxley and Lefiat to his chambers to tell them about a mission. They are to dump a mystical key in a cave where no man or witch would ever dare look for it. The mission will be disguised as an ordinary royal trip and they will be accompanied by the king's only daughter, Princess Mandika and royal butler, Bonson.
Flaxley is confident of a swift, successful mission. Travelling in the royal carriage, nobody will suspect they're carrying a mystical artefact and merely dumping the key in a cave will be simplicity itself. What could go wrong? Never underestimate the power of Lefiatís ineptitude.
Following a mix up with saddle bags, Lefiat accidentally reveals the key to two evil witches and ends up plunging the entire world into great danger. Thanks to his efforts, they end up having only seven days to retrieve the key and save the world.
FUTILE FANTASY TWO: THE TALE OF TIFAERIS
Having returned to Tifaeris, his place his birth, Sir Flaxley and his beloved wife, Kritz are absolutely loving life. The town had been destroyed many years before by a neighbouring tribe, but thanks to them, the settlement is once again beginning to thrive. Typically, however, just when things start going right, everything threatens to go horribly wrong. The gynocratic Trepe tribe who destroyed the town in the past, once again threaten to obliterate the township. To make matters even worse for Flaxley, the Trepe take his beloved wife hostage.
Not about to let them get away with it, Flaxley, along with Lefiat, Princess Mandika, Bonson and a three foot tall green alien set about saving Tifaeris and removing the Trepe threat forever.
FUTILE FANTASY THREE: THE QUEST FOR ZANNE
Since crash landing on this planet several years ago, Derek, the three foot tall green alien from the planet Tryme 17 has longed for home. Despite making good friends on this planet, he's missed his wife, Zanne, horribly.
Having convinced himself he'll never see her again, he gets the shock of his life one night when he hears her call his name on the wind. He's delighted to find she's made her way to the planet to find him and he can finally go home. If only it was that easy. Before leaving, he decides to say his goodbyes to Flaxley, Kritz, Mandika, Bonson and Lefiat during which time, Zanne is abducted by a powerful force for evil.
Cursing his luck, Derek sets out with Flaxley, Kritz, Mandika, Bonson and Lefiat in a quest to rescue her that takes them across glaciers and even through time.
FUTILE FANTASY FOUR: THE CURSE OF AURORA
Sick of Lefiatís incompetence, the king arranges a royal tournament and invites all the greatest warriors from townships all over the world. Convinced Lefiat will be shown up and disgraced, the king is confident he'll finally be able to rid himself of the buffoon.
Once the tournament begins, little does the king know, he's not the only one using the tournament for a sinister purpose. The evil spirit of shamed Queen Aurora needs a female host of sovereign standing to rise again. Should the king die, Princess Mandika will ascend to the throne and Queen Aurora will be able to resume her terror through her.
Will anyone be able to stop aurora or her dark minions from assassinating the king? Should they succeed could anyone save Mandika from possession or will Aurora once again live to terrorise the world?
FUTILE FANTASY FIVE: THE VOYAGE TO SANETZA
When a gang of rogues start gathering together artefacts to create a deadly, evil key, Sir Flaxley discovers his childhood friend might be in mortal danger. Desperate to save him, Flaxley heads for his last known whereabouts, the township of Leathrock. Upon hearing he was lost at sea on a ship captained by someone close to Kritzís heart, he knows he has little choice but to sail out to sea and try to find them both.
Could it be they found the mythical land of Sanetza? All anyone knows for sure is that a voyage into the unknown, being attacked by pirates and sea beasts is not the honeymoon Princess Mandika was expecting.
FUTILE FANTASY SIX: THE RETURN OF EVERKEI
Having retrieved an artefact for the mystic wise man Daman Siria, Flaxley, Kritz, Mandika, Lefiat, Derek and Bonson truly believe they can finally live their lives in peace from hereon in. Little do they know, finding the artefact was only the beginning of the end.
Once back in Guevina, Mandika banishes Lefiat and Bonson from her castle, making Bonson instigate a revolution against her. With the people rising up either to condone or defend her, Mandika sends for her sworn protector, Flaxley to come to her aid.
With civil war looming large and a giant battle imminent, the ultimate evil, Everkei, returns from where he and his army were sealed inside the city walls. The battle is no longer for Mandikaís crown, it's for the very survival of the world.
CHARACTERS:
SIR FLAXLEY OF TIFAERIS

HAVING LEFT HIS HOMETOWN AFTER IT WAS RAZED TO THE GROUND BY THE TREPE TRIBE, FLAXLEY LEARNT THE KNIGHTS CODE AND BECAME A MASTER SWORDSMAN.

HAVING JOINED THE GUEVINA ARMY, HE WAS SOON PROMOTED TO THE KNIGHT UNIT AND BECAME THE YOUNGEST HEAD KNIGHT IN THE NATION'S HISTORY.

ATTRIBUTES: EXPERT SWORDSMAN, IMMENSELY BRAVE, TACTICAL GENIUS, HUNG LIKE A HORSE.

NEGATIVES: TERRIBLE AT PUNNING, HORRIBLE AT REMEMBERING NAMES, CAN BE A TAD CONCEITED.

LIKES: KRITZ, HIS SWORD AND HONOURABLE PEOPLE.

DISLIKES: EVIL-DOERS AND MAN-EATING BEASTS.

LEFIAT

DREAMS OF BEING A KNIGHT AND TRAINS EVERYDAY WITH MAKESHIFT EQUIPMENT FASHIONED TOGETHER FROM WOODEN SPOONS. FOR ALL HIS EFFORTS TO TRAIN HIMSELF, HE'S A FAVOURITE TARGET OF THE LOCAL BULLY. BUILT LIKE A STICK AND JUST AS INTELLIGENT, HIS AMBITION OF BECOMING A KNIGHT LOOKS LIKE BEING NO MORE THAN JUST A PIPE DREAM.

ATTRIBUTES: HE MEANS WELL.

NEGATIVES: NO SWORD SKILLS, SCARED OF HIS OWN SHADOW, AS THICK AS TWO SHORT PLANKS AND HAS ALL THE SOCIAL SKILLS OF A DEAD BADGER.

LIKES: KNIGHTS AND THE ROYAL FAMILY.

DISLIKES: BULLIES.

PRINCESS MANDIKA OF GUEVINA

SELF-CENTRED AND SPOILT, MANDIKA CARES ONLY ABOUT HERSELF AND DOESN'T CARE WHAT ANYBODY ELSE THINKS.

CONVINCED THAT SHE'S THE MOST MAGNIFICENT PERSON IN THE WORLD, SHE LUSTS AFTER SIR FLAXLEY, TRULY BELIEVING THAT NOBODY ELSE IS GOOD ENOUGH FOR HIM.

ATTRIBUTES: HAS A LOT OF MONEY.

NEGATIVES: RUDE, SELFISH, ARROGANT, LAZY.

LIKES: SIR FLAXLEY, HERSELF, BEING SO RICH AND BEAUTIFUL.

DISLIKES: PEASANTS AND ANY WOMAN WHO DARES LOOK AT SIR FLAXLEY.

BONSON

AS ROYAL BUTLER TO THE GUEVINA HOUSEHOLD, BONSON HATES HIS LIFE. HE'S SICK OF LIVING IN SERVITUDE AND PATRONISES HIS PEERS WITH A SNEERING TONE, KNOWING ALL TOO WELL THEY'RE TOO ARROGANT TO REALISE THEY'RE BEING INSULTED.

SPENDS HIS SPARE TIME AT THE INN PURSUING HIS LOVE OF ALE.

ATTRIBUTES: EXTREMELY INTELLIGENT AND WELL READ.

NEGATIVES: RUDE AND CONDESCENDING.

LIKES: ALE.

DISLIKES: ROYAL PEOPLE, IDIOTS, PRETTY MUCH EVERYTHING AND EVERYONE.

KRITZEVELTIA SKIZMOTZO BALLEVENTIOS - AKA KRITZ

HAVING BEEN ABDUCTED FROM TIFAERIS AS A CHILD, SHE WAS RAISED AS A TREPE WARRIOR AND TAUGHT TO FIGHT WITH A HEARTLESS VICIOUSNESS.

EXTREMELY GOOD-LOOKING AND DEVOID OF ANY INHIBITIONS WHATSOEVER, SHE LEAVES MEN DROOLING IN HER WAKE WHEREVER SHE GOES. WOE BETIDE THEM, HOWEVER, SHOULD THEY DARE TRY THEIR LUCK.

ATTRIBUTES: UNARMED COMBAT MASTER AND EXPERT SEDUCTRESS.

NEGATIVES: FOUL TEMPER AND LOOSE MORALS.

LIKES: FIGHTING AND FASHION.

DISLIKES: UNWELCOME ATTENTION AND BEING QUESTIONED.

DEREK

HAVING FAILED AT TECHNOLOGY ON HIS HOME PLANET, THE THREE FOOT TALL GREEN ALIEN FROM THE PLANET TRYME 17 DIDN'T HAVE THE KNOW HOW TO FIX HIS SPACECRAFT AND CONSEQUENTLY BECAME STRANDED IN THIS WORLD.

DEREK IS A WELL SPOKEN AND THOUGHTFUL INDIVIDUAL WHO GETS ON WELL WITH EVERYONE, EVEN THE GRUMPY BONSON.

ATTRIBUTES: HE'S A MASTER OF MAGIC AND A MIND-READER.

NEGATIVES: MIND-READING ANNOYS HIS PEERS GREATLY.

LIKES: THE FRIENDS HE'S MADE ON EARTH.

DISLIKES: ALE AND DOGS.
DOWNLOADS:
FUTILE FANTASY ONE - THE LEGEND OF LEFIAT
FUTILE FANTASY TWO - THE TALE OF TIFAERIS
FUTILE FANTASY THREE - THE QUEST FOR ZANNE
FUTILE FANTASY FOUR - THE CURSE OF AURORA
FUTILE FANTASY FIVE - THE VOYAGE TO SANETZA
FUTILE FANTASY SIX - THE RETURN OF EVERKEI
*ALL IN .PDF FORMAT*
THE WRITING OF THE FUTILE FANTASY TRILOGY: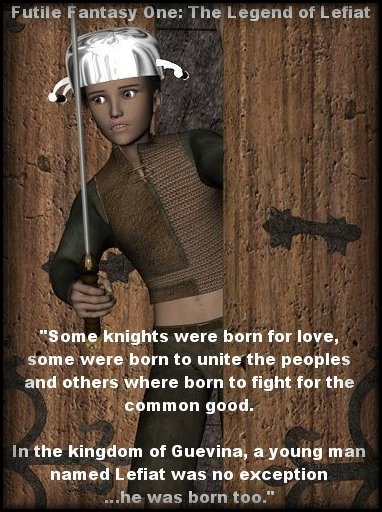 The first draft of part one, The Legend of Lefiat was completed in late spring 2001. At the time it was monumental achievement despite being only 96 pages long. An original draft was started some five months earlier and only four pages in, the computer died and it was lost forever. All that remained was the opening paragraph on a scrap of lined paper. Disheartened, it took a long time to find the will to start again. However, five months later, after two weeks of endless typing, the draft was complete and we were delighted with it.
Loving the characters we'd created, the sequel, The Tale of Tifaeris followed within a matter of weeks. At only 92 pages long it was again, a great moment for us. In fact, we were so delighted with it, before summer ended we'd written the third part, The Quest for Zanne, weighing in at 94 pages. The Futile Fantasy Trilogy was born.
We were so pleased with what we'd written, it wasn't long before we planned then wrote, part four, The Curse of Aurora. Unfortunately, despite liking the story in places, it didn't seem to have the same impact as the first three and was therefore something of an insult to them. With this in mind, it was deleted and all that remained of part four was a printed hard copy.
Well, 2002 came and we moved onto other projects. The Futile Fantasy Trilogy was filed under complete and we moved on. In 2003 however, we decided to send all our efforts to the BBC for some reason. Before we could do this we needed to split The Legend of Lefiat into even length episodes. This meant adding parts and heavily editing it. What we ended up with was a first part that was twice as long as the other two. This of course, needed to be addressed and they too were heavily amended. We'd now massively improved the futile fantasy trilogy.
We were so pleased with the improvements that in 2004 we decided to type up the hard copy of part four and we wrote a plan for part five. We were so excited about copying up part four it only to us until 2007 to get around to doing it.
Annoyingly, after typing up part four, we read it back and found it had one tiny flaw. It was crap! But... rather than delete it, we set about it improving it and bringing it up to standard. It took a solid month but was well worth the effort. We now had four good parts to our... trilogy. Well, we thought about it and what better name is there for a four part comedy than "trilogy". And so the name stuck.
It was only a matter of weeks after writing part four that we set about writing part five, The Voyage to Sanetza. Using the three year old plan, we spent five weeks creating what in my personal opinion is the best story of the entire bunch. Part five was so good in fact, it was only a week later that we started writing part six, The Return of Everkei. The plan was done in a day using ideas we had in our heads and the writing got underway immediately. When it was over, we sat back and drew our breath. We'd done it. We managed to make six individual tales and tie them all together with what can only be described as an immense ending.
At the end of 2010, we edited and added new parts to The Tale of Tifaeris, plus fixed some anomalies in The Quest for Zanne. Any improvements we feel we can make, we will make. We make no apologies for that.
2013 was a massive year for the Futile Fantasy Trilogy. Every single story was given a complete overhaul. The stories are now all similar in length and standard; and all contain new scenes. Nothing else was done in the whole of 2013; our only focus being this, our flagship body of work. It was the year The Futile Fantasy Trilogy came of age.
In 2023 Futile Fantasy One was overhauled and improved once again.
As for the future, for now we remain adamant that there will be no part seven but we feel certain there'll probably be a spin off series of shorter stories somewhere down the line. Until then, please enjoy the fruits of our 12 years worth of labour.