FUTILE'S - THE BEST FAKE NIGHTCLUB ON THE INTERNET.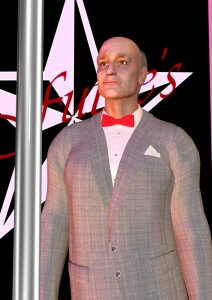 LORD TRIMINGLY OF HERTFORD. CO-OWNER.

HAVING SOLD HERTFORDSHIRE AND VARIOUS PARTS OF LONDON TO A JAPANESE TYCOON, TORY LORD TRIMINGLY INNOCENTLY FORGOT TO DECLARE HIS PROFITS TO THE INLAND REVENUE. MERELY FOR THIS OVERSIGHT AND THE MINOR OFFENCE OF SELLING THINGS HE DIDN'T ACTUALLY OWN, HE'S BEEN PERSECUTED EVER SINCE BY THE FRAUD SQUAD. UNWILLING TO PANDER TO THEIR UNREASONABLE REQUESTS FOR HIM TO EXPLAIN HIMSELF, HE HEADED FOR HIS PRIVATE ISLAND, LOCATED WITHIN A CARIBBEAN NATION THAT HAS NO EXTRADITION TO THE UK OR JAPAN.

HAVING BEEN FORCED TO START A NEW LIFE ON THE ISLAND, TRIMINGLY OPENED FUTILE'S NIGHTCLUB AND A LARGE HOLIDAY RESORT. HE THEN ADVERTISED THE RESORT IN COSMOPOLITAN, VOGUE AND COUNTRY LIFE MAGAZINES TO ENSURE A CLIENTELE OF FASHION MODELS AND FELLOW CONSERVATIVES. THANKS TO HIS ACTIONS, THE ISLAND IS ALWAYS A LIVELY HAVEN OF ACTIVITY.

THESE DAYS WHEN TRIMINGLY ISN'T INTERVIEWING GIRLS FOR THE NIGHTCLUB OR ENJOYING A DRINK IN THE VIP SECTION, HE WANDERS THE ISLAND GREETING VISITORS AND VETTING OUT THE UNDESIRABLES SUCH AS MALE MODELS, HAIRDRESSERS, LABOUR SUPPORTERS AND FAT PEOPLE. GOD BLESS YOU, TRIMINGLY, YOU MADE THIS ISLAND WHAT IT IS.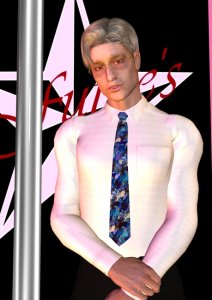 SIR ROBERT FORTESQUE-SMYTHE MP. CO-OWNER.

LIKE LORD TRIMINGLY, CONSERVATIVE MP, FORTESQUE-SMYTHE HAS BEEN PERSECUTED UNNECESSARILY BY THE UK AUTHORITIES FOR SEVERAL YEARS NOW. HAVING HAD AN INGENIOUS IDEA TO HELP EVERYONE IN HIS LONDON CONSTITUENCY, HE IS NOW BEING PUNISHED FOR HIS INGENUITY. HAVING WON A LOCAL ELECTION WITH SIXTY PERCENT OF THE VOTE, HE GENEROUSLY TOOK THE CONCERNS OF THE OTHER FORTY PERCENT TO HEART AND HELPED THEM OUT. WELL AWARE IT WAS MOSTLY THOSE WHO DWELLED ON THE LOCAL RUNDOWN COUNCIL ESTATE THAT HAD VOTED AGAINST HIM, HE TOOK ACTION. KNOWING THESE HARD UP FOLKS DIDN'T WANT HIM AS THEIR MP, HE KINDLY BOUGHT UP THEIR PROPERTIES AND MOVED THEM TO OTHER CONSTITUENCIES SO THEY COULD HAVE THE DIFFERENT MP THEY CRAVED. HE EVEN MADE A GOLF COURSE ON THE SITE OF THEIR HOMES FOR THOSE WHO DID VOTE FOR HIM. EVERYONE WAS A WINNER. THOSE WHO REJECTED HIM AS AN MP, ENDED UP GETTING A DIFFERENT ONE AND THE REST GOT TO PLAY GOLF. PERFECT.

BIZARRELY, HOWEVER, THE GOVERNMENT DECIDED THIS WAS ILLEGAL AND EVEN MADE UP A SILLY NAME FOR THE CRIME OFF THE TOP OF THEIR HEADS. GERRYMANDERING, INDEED! FORTESQUE-SMYTHE WAS PROMPTLY ARRESTED FOR THIS MADE UP CRIME. NOT ABOUT TO LET THE GOVERNMENT SEND HIM TO JAIL FOR SUCH A SILLY CRIME, OR INDEED ANY OF THE FRAUD RELATED ONES HE WAS LATER ACCUSED OF, HE FLEW TO TRIMINGLY'S ISLAND AND BOUGHT UP A FIFTY PERCENT STAKE IN FUTILE'S NIGHTCLUB.

THESE DAYS FORTESQUE-SMYTHE PASSES THE TIME HELPING TRIMINGLY ENFORCE THE ISLAND'S STRICT "NO MALE MINCING" POLICY AND IS CURRENTLY OVERSEEING THE BUILDING OF A GOLF COURSE. A LEGEND OF A MAN, FORTESQUE-SMYTHE, WE SALUTE YOU.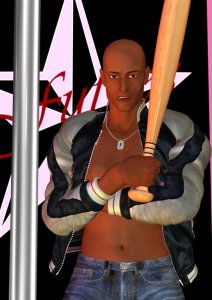 "BIG" DAVE CHAMBERS. HEAD OF SECURITY.

BIG DAVE IS A SIMPLE FELLOW. HE DOES AS TRIMINGLY AND FORTESQUE-SMYTHE ASK AND NEVER ASKS QUESTIONS. HE ENJOYS WHAT HE DOES AND YOU SELDOM HEAR HIM COMPLAIN. AS HEAD OF SECURITY, HE'S CHARGED WITH KEEPING THE DANCING GIRLS SAFE AND MAKING SURE FUTILE'S REMAINS A TROUBLE FREE ENVIRONMENT.

DEDICATED TO HIS DUTY, HE IS SOMETIMES CRITICISED FOR HIS METHODS BUT NOBODY CAN DOUBT HE GETS RESULTS. ONE SUCH EXAMPLE OF HIS SUCCESSFUL METHODS IS THE CASE OF THE DISGRUNTLED BARMAN. HAVING BEEN DUE TO START WORK AT 20.00, THE BARMAN STROLLED IN AT 20.01. HE WAS SUBSEQUENTLY DOCKED AN HOURS PAY WHICH HE SEEMINGLY ACCEPTED AT FIRST. WHEN THE DANCER, SOPHIE STROLLED IN 10 MINUTES LATER, FLASHED HER BREASTS AT TRIMINGLY AND WAS IMMEDIATELY FORGIVEN HER TARDINESS, HOWEVER, THE BARMAN WAS FURIOUS. HAVING KICKED UP A FUSS AND DEMANDED EQUALITY, MAKING QUITE THE SCENE IN THE PROCESS, HE WAS TAKEN OUTSIDE BY BIG DAVE WHO SOLVED THE PROBLEM IMMEDIATELY. THAT BARMAN HASN'T BEEN SEEN IN THE NIGHTCLUB SINCE, OR INDEED ANYWHERE ELSE. HIS PARENTS HAVE BEEN TO THE ISLAND LOOKING FOR HIM BUT BIG DAVE ASSURES US HE LEFT THE ISLAND FIT AND WELL ON A FLIGHT THAT VERY EVENING. EVEN THOUGH THERE WAS NO FLIGHT THAT EVENING, BIG DAVE'S ASSURANCES WERE ENOUGH TO SATISFY TRIMINGLY AND FORTESQUE-SMYTHE AND THE MATTER WAS DROPPED. SOLVED.

BOTTOM LINE IS, DON'T MAKE A SCENE IN FUTILE'S NIGHTCLUB OR BIG DAVE WILL WANT A "WORD". VIOLENCE IS QUITE LITERALLY, THE ONLY THING HE UNDERSTANDS. HE CERTAINLY DOESN'T UNDERSTAND WHY THE FUTILE'S GIRLS ALL FIND HIM REPULSIVE. NEVERTHELESS, WHEN HE ISN'T PUMMELLING SOMEONE IN THE ALLEY BEHIND THE CLUB, HE CAN USUALLY BE FOUND UNSUCCESSFULLY ATTEMPTING TO CHARM THEM. A LADIES MAN HE IS NOT!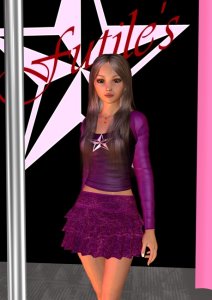 MISS CLAUDIA TRIMINGLY. GENERAL MANAGERESS.

THE FAVOURITE DAUGHTER OF LORD TRIMINGLY. HAVING BEEN USED TO SPENDING HER DAYS, STROLLING UP AND DOWN OXFORD STREET RACKING UP A SMALL FORTUNE ON HER FATHER'S CREDIT CARD, CLAUDIA IS STRUGGLING TO ADJUST TO LIFE ON THE ISLAND. THE DISTINCT LACK OF SHOPS IS KILLING HER. HER ONLY SAVING GRACE IS THE INTERNET, PLUS THE FACT HER FATHER LETS HER TRAVEL TO LONDON NOW AND AGAIN. IF SHE STAYS TOO LONG, HOWEVER, SHE KNOWS HER FATHER MIGHT CUT HER OFF AND THERE'S NO WAY SHE'S GOING TO RISK LOSING HER INHERITANCE. SO, FOR TEN MONTHS OF THE YEAR, SHE'S STUCK ON THE ISLAND AND HATES EVERY SECOND OF IT.

AS GENERAL MANAGERESS, HER DUTIES INCLUDE GREETING PEOPLE AS THEY ENTER THE CLUB AND MAKING SURE THE BAR & EVENTS MANAGERESS (THE ONE WHO DOES ALL THE REAL WORK) ISN'T EMBEZZLING FUNDS. BASICALLY, SHE SCANS THE FINANCES IN THE MORNING, NAPS ALL AFTERNOON THEN HANGS AROUND IN THE BAR ALL EVENING. IT'S NOT A DIFFICULT JOB BUT IT GIVES HER SOMETHING TO DO.

BEING SOMETHING OF A SNOB, IN ALL HER TIME ON THE ISLAND, CLAUDIA HAS MET TWO PEOPLE SHE LIKED. FORTESQUE-SMYTHE MP AND HER FATHER'S FRIEND, LORD BRYANT. EVERYONE ELSE GETS ON HER NERVES. SHE CONSIDERS BIG DAVE A THUG AND REFERS TO THE DANCERS AS TROLLOPS, SLUTS OR WHORES. NEEDLESS TO SAY, THEY LIKE HER AS MUCH AS SHE LIKES THEM.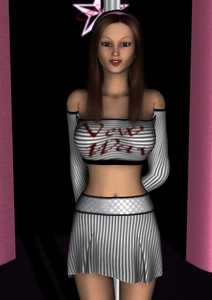 LISA TEWKESBURY. BAR & EVENTS MANAGERESS.

HAVING APPLIED FOR THE JOB WITH NO QUALIFICATIONS WHATSOEVER, LISA SOMEHOW MANAGED TO BEAT OFF THREE EXPERIENCED MALE CANDIDATES TO LAND THE POSITION OF BAR MANAGERESS. HER ATTITUDE BEING ONE OF "HOW HARD CAN IT BE?", SHE SEEMED TO IMPRESS TRIMINGLY AND FORTESQUE-SMYTHE. SOME CYNICS HAVE CLAIMED IT WAS THE FACT THAT THE LARGE-BREASTED BEAUTY TURNED UP FOR THE INTERVIEW IN HER BIKINI THAT CLINCHED IT FOR HER, BUT THE TWO CO-OWNERS ARE ADAMANT THAT THAT'S A SCANDALOUS ACCUSATION.

AS BAR & EVENTS MANAGERESS, IT'S LISA'S JOB TO ENSURE THE BAR IS ALWAYS STOCKED, THE CLUB IS CLEAN AND PRETTY MUCH EVERYTHING ELSE GETS DONE. SHE'S ALSO CHARGED WITH CREATING SPECIAL EVENTS TO ATTRACT PEOPLE TO THE CLUB. SO FAR, HER FANCY DRESS AND AMATEUR STRIP NIGHTS HAVE PROVEN A GREAT SUCCESS, ADDING STRENGTH TO THE CO-OWNER'S CLAIMS THAT THEY DIDN'T APPOINT HER JUST FOR HER LARGE BREASTS.

THE ONLY BLEMISH ON LISA'S PERFECT RECORD TO DATE CAME WHEN SHE DECIDED TO TAKE PART IN ONE OF THE AMATEUR STRIP NIGHTS SHE'D ORGANISED. THE PROFESSIONAL STRIPPERS, FEARING SHE MIGHT BE MAKING A PLAY FOR ONE OF THEIR JOBS, HECKLED AND BOOED ALL THROUGH HER PERFORMANCE, AT THE END OF WHICH, THE NAKED LISA LOST HER TEMPER. HAVING SCREAMED AT THEM FROM THE STAGE SHE THEN LEAPT DOWN AND TOOK A SWING AT SOPHIE, ACCIDENTALLY PUNCHING EMMA INSTEAD. BEFORE SHE COULD THROW ANOTHER PUNCH, SHE WAS SWIFTLY DRAGGED OUTSIDE INTO THE ALLEY BY BIG DAVE WHO CALMED HER DOWN THEN HELPED HER UNLEASH HER FRUSTRATIONS DOGGIE STYLE. APOLOGIES WERE MADE AND PEACE HAS SINCE BEEN RESTORED BUT THE GIRLS WILL NEVER STOP TEASING HER ABOUT BIG DAVE. TO THIS DAY, SHE REMAINS HIS ONE SUCCESSFUL CONQUEST.