THE SECT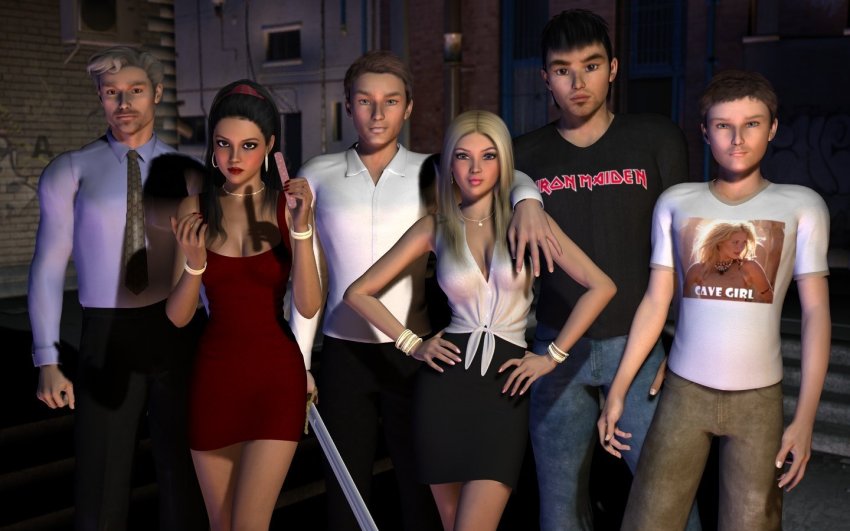 LEFT TO RIGHT: THE PROFESSOR, KELLY, CHRIS, EMMA, ANDY AND LLOYD.
OVERVIEW:
The town of Ashwood in the south-east of England has a dark secret. Being one of only three places in the entire world to host a portal from demonic dimensions, plus support a water source that all demons can survive off of, the town has a serious demonic entity problem.
For centuries the mages of the world gathered in Ashwood to battle the demons. They were, however, always fighting a losing battle and as the art of magic began to die out, the mages were forced to take dramatic action. Several hundred years ago, the last remaining mages formed a sect and united their powers to cast a spell; a spell to pass on their skills and the will to fight to their descendants. Today, Ashwood remains a haven for demons and dark entities but the battle still goes on thanks to those known only as "the descendants of the sect".
BASIC STORY:
Having fought evil all their lives, Andy, Chris, Emma and Lloyd aren't surprised to spot two demons looking for trouble on the streets of Ashwood. As the two evils attack their targets, an American professor and his assistant, it just seems like yet another day in their action packed lives. Little did they know however, the professor himself is a descendant of the sect and the attempt on his life was no random incident.
Gifted with the powers of a seer, the professor joins the mages as they go about their daily struggles to rid the world of evil. It's a never-ending and thankless task, but someone has to do it.
Set in the early 2010's 'The Sect' chronicles the evolution of this small group of mages as they fight for the very survival of mankind.
CHARACTERS:
CHRIS FOX. AGED 23. BLESSED WITH HIGH LEVEL SWORD SKILLS, CHRIS USES A BLADE TO TAKE DOWN DEMONS, RATHER THAN HIS NATURAL MAGIC. THANKS TO AN INCIDENT IN HIS PAST, USING HIS MAGIC MAKES HIM AS MUCH OF A DANGER TO HIMSELF AS IT DOES TO THE DEMONS. EXTREMELY VAIN, CHRIS BELIEVES HE'S GOD'S GIFT TO WOMEN AND ALSO FANCIES HIMSELF AS SOMETHING OF A LEADER. NOBODY EVER TAKES HIS ATTEMPTS TO LEAD SERIOUSLY, HOWEVER.

EMMA

FOX. AGED 20. CHRIS' YOUNGER SISTER, EMMA IS VERY MUCH A FORCE TO BE RECKONED WITH. BLESSED WITH POWERFUL ENERGY MAGIC AND THE GIFT OF HEALING, SHE'S THE ONE DEMONS FEAR THE MOST. DESPITE BEING ONLY FIVE FEET AND TWO INCHES TALL (157CM), EMMA IS EXTREMELY FEISTY AND SPENDS MOST OF HER TIME ARGUING WITH HER BROTHER. LIKE HER BROTHER, VANITY IS ALSO AN ISSUE. SHE IS, HOWEVER, THE LEVEL-HEADED ONE OF THE GROUP AND MUCH LOVED BY ALL.

ANDY STONE. AGED 23.

SOMETHING OF A MAN MOUNTAIN, ANDY TOWERS OVER THE REST OF THE MAGES. HIS MAGIC SKILL IS ALL CHANNELLED VIA HIS FISTS AND HE FIGHTS DEMONS WITH A PRIMAL LUSTRE. HE DOESN'T JUST ENJOY VIOLENCE TOWARDS DEMONS, HE THRIVES ON IT. DESPITE HIS NATURAL AGGRESSION, HOWEVER, MORE OFTEN THAN NOT, HE'S VERY MUCH A GENTLE GIANT. DESPITE BEING CHRIS' BEST FRIEND FOR MANY YEARS, ANDY IS HOPELESS WITH WOMEN AND SHARES NONE OF THE FOX SIBLING'S VANITY.

PROFESSOR CALVIN PHILLIPS. AGED 41. BORN AND RAISED IN THE UNITED STATES, THE PROFESSOR DEVOTED HIS CAREER TO DEMONOLOGY. HAVING SPENT YEARS TRYING TO PROVE THE EXISTENCE OF DEMONS, HE CAME TO ASHWOOD IN SEARCH OF EVIDENCE, BASED ON AN ANCIENT SCROLL HE'D DISCOVERED. WHAT HE DISCOVERED UPON ARRIVING IN THE TOWN WENT BEYOND HIS WILDEST EXPECTATIONS. BLESSED WITH THE POWER OF A SEER, THE PROFESSOR SETTLES IN ASHWOOD AND BECOMES A VALUABLE MEMBER OF THE TEAM.

KELLY CHAMBERS. AGED 24. DESPITE WORKING AS THE PROFESSOR'S ASSISTANT, KELLY DIDN'T BELIEVE IN THE EXISTENCE OF DEMONS AND OFTEN MOCKED THE PROFESSOR FOR HIS BELIEFS. COMING TO ASHWOOD WITH HIM WAS A SHOCK TO HER SYSTEM. VERY MUCH A CONCEITED CALIFORNIAN VALLEY GIRL, KELLY IS DIFFICULT TO GET ALONG WITH. SHE CARES ONLY FOR SHOES, CLOTHES AND MAKE-UP. ALL TOO OFTEN, SHE AIRS HER VIEW ON EVERYBODY ELSE'S SHORTCOMINGS WITHOUT ANY CONSIDERATION FOR THEIR FEELINGS.

LLOYD FARMER. AGED 18. LLOYD IS AN IDIOT. A COMPLETE HALFWIT. HAVING NO MEMORY OF ANYTHING WHATSOEVER FROM BEFORE HE MET CHRIS, ANDY AND EMMA, HE ONLY HAS THEIR WORD FOR IT THAT HE'S ACTUALLY A MAGE. DESPITE HAVING NO SKILLS TO SPEAK OF, HOWEVER, HE'S HAPPY TO BELIEVE IT. WELL AWARE OF HIS SHORTCOMINGS, LLOYD DRIFTS THROUGH LIFE AS BEST HE CAN, IN THE HOPE THAT IT'LL ALL WORK OUT WELL IN THE END.
PROMOTIONAL VIDEO:
DOWNLOADS:
DOWNLOAD SERIES ONE - (12 EPISODES)
DOWNLOAD SERIES TWO - (12 EPISODES)
DOWNLOAD SERIES THREE - (12 EPISODES)
DOWNLOAD SERIES FOUR - (12 EPISODES)
DOWNLOAD SERIES FIVE - (12 EPISODES)
DOWNLOAD SERIES SIX - (12 EPISODES)
DOWNLOAD SERIES SEVEN - (12 EPISODES)
DOWNLOAD SERIES EIGHT - (12 EPISODES)
DOWNLOAD SERIES NINE - (12 EPISODES)
DOWNLOAD SERIES TEN - (12 EPISODES)
DOWNLOAD A SECT SPECIAL - SPIRIT LEVELS (1 MEGA EPISODE)
*ALL FILES ARE IN .PDF FORMAT*
EPISODE TITLE GUIDE
SERIES ONE
01.01 THE WHITE PROPHECY
01.02 THREE IS THE TRAGIC NUMBER
01.03 HAIR OF THE DOG
01.04 AN EYE FOR AN EYE
01.05 PORTAL COMBAT
01.06 THE RAMPAGE
01.07 BIG GIRLS DON'T SCRY
01.08 NOBODY'S FOOL
01.09 BLACK SHEEP
01.10 A ROLLING STONE
01.11 LLOYD HARD
01.12 SISTERS OF THE REVOLUTION
SERIES TWO
02.01 ONLY FOLLOWING ORDERS
02.02 OUT OF JAPAN, INTO THE FIRE
02.03 BEYOND EVIL
02.04 NIGHT OF THE LOST MAGE
02.05 PANIC!!!
02.06 THE ALPINE HORN OF PLENTY
02.07 THREE STRIKES AND YOU'RE DEAD
02.08 TOO MUCH, TOO YOUNG
02.09 FOX HUNTING
02.10 BAD POET'S SOCIETY
02.11 JUST ANOTHER WET WEEKEND
02.12 SPIRITUAL APARTHEID
SERIES THREE
03.01 THE SOUL BENEFICIARY
03.02 LLOYD HARD 2: LLOYD HARDER
03.03 THE REFEREE'S A WHAT NOW?
03.04 THE MAGE WHO LOVED ME
03.05 THE JOY OF SECTS
03.06 IT'S GOOD TO TALK
03.07 A DANGEROUS GAME
03.08 A WEB OF LIES
03.09 REVOLTING
03.10 MODEL CITIZENS
03.11 SOLDIERS OF MISFORTUNE
03.12 SO LONG, SUCKERS
SERIES FOUR
04.01 YULETIDE GENOCIDE
04.02 THE NICE MAN COMETH
04.03 THE SCALES OF JUSTICE
04.04 BIG WOBBLE IN INDOCHINA
04.05 THE IMPOSITION
04.06 THE HAND OF THE DEVIL
04.07 A MINOR DILEMMA
04.08 THE WICCA BASKET CASE
04.09 I AM EMMA
.04.10 THE HALFWIT PRINCE
04.11 LLOYD HARD WITH A VENGEANCE
04.12 TOTAL RETOOL
SERIES FIVE
05.01 PAWN COCKTAIL
05.02 A CUTE ANGLE
05.03 THINGY, BLOKE, HER AND THE OTHER ONE
05.04 GROUCHING BOYFRIEND, HIDDEN DIPSHIT
05.05 MANY, MANY MINEKAWA
05.06 YOU TOTALLY CAN'T TOUCH THIS
05.07 THE ONE IS NOT AMUSED
05.08 WHITE MAGE DOWN
05.09 THE ELEPHANT IN THE ROOM
05.10 REPOSSESSED
05.11 THE TREASON SEASON
05.12 FIGHT FOR FOX SAKE
SERIES SIX
06.01 THE THREE DEMONIC AMIGOS
06.02 LLOYD HARD 4.0
06.03 A FISTFUL OF DONG
06.04 THE MUMBLE IN THE JUNGLE
06.05 SHAMAN YOU!
06.06 A MAN WITH A PLAN
06.07 THE AGE OF THE MAGE
06.08 DEBUNK THIS!
06.09 DROPPING ANKA
06.10 BITTER AND TWISTED
06.11 THE DISCOMFORT ZONE
06.12 BRINGING HOME THE BACON
SERIES SEVEN
07.01 ELEMENTARY SCHOOL
07.02 FRUITCAKE
07.03 DEVIL SWORD
07.04 NO SLEEP 'TIL EUSTON
07.05 DEMONS AT THE DISCO
07.06 THE EVIL CAT-MEN DO
07.07 CABIN PRESSURE
07.08 EX-MEN: THE LAST STAND
07.09 TOUCHY SUBJECTS
07.10 HEAT
07.11 WHEN TOASTERS ATTACK
07.12 THE LAST HURRAH
SERIES EIGHT
08.01 THE AWAKENING
08.02 OVEREXPOSED
08.03 THE SPAWNED IDENTITY
08.04 DAMNED KIDS
08.05 TREVORS
08.06 A PIPE DREAM
08.07 WIPE OUT THE SAFARIS
08.08 KELLY FLOP
08.09 THE CROSSING
08.10 THE WEDDING BELL END
08.11 COCOONED
08.12 THE LESSON
SERIES NINE
09.01 DUTY CALLS
09.02 NEMESIS
09.03 SEED DEMON
09.04 THE WONTON WONDER KID
09.05 BROUGHT TO HEAL
09.06 MUMS OF ANARCHY
09.07 PAPA'S GOT A BRAND NEW HAG
09.08 MISTAKE BOY RIDES AGAIN
09.09 THE BABY BOTTLE BATTLE
09.10 TROUBLE AND STRIFE
09.11 NOW MUSEUM; NOW YOU DON'T
09.12 HYBRID DAY
SERIES TEN
10.01 HOLE IN JUAN
10.02 SNOWMAN'S LAND
10.03 THE JOCK BY THE LOCH
10.04 THE LOOSE END
10.05 2001: A MAGE ODYSSEY
10.06 THE GOOD, THE BAD AND THE GIGGLY
10.07 NO REST FOR THE WINGED
10.08 ON THE RIGHT TRACK
10.09 TOMB TEAM
10.10 THE UNHAPPY COUPLE
10.11 A BLAST FROM THE PAST
10.12 GONE!
BONUS EPISODE
A SECT SPECIAL - SPIRIT LEVELS
THE WRITING:
Originally, this was written as a drama and submitted to BBC television's drama department. A short while after submitting it to the BBC, however, we read it back and discovered one minor flaw. It's not a drama! Having laughed our way through back to back episodes, we realised we'd accidentally written a dark comedy with a slightly serious edge. Whoops.